25 Amazing New Vegan Products Coming in 2019
April 22, 2019


I recently attended Natural Products Expo West for the first time ever. Holy hell, what a smorgasbord!
Expo West is an annual food show that draws some 80-100,000 people and six thousand brands. It's massive and sprawling and totally cray in the best possible way.
Because it's so huge and so prestigious, this is where all the brands — big and small — roll out and test their new vegan products. There are vegan product samples everyyyyyyywhere you turn.
So much deliciousness, so little stomach room!
If you didn't make it this year, I highly suggest you make plans for 2020. But either way, I've got you covered as far as what you need to buy.
Of the dozens and dozens and dozens of new vegan products I tried, here are my top 25 picks. Some are already available, some are coming soon.
(And before you ask how you can get your hands on these amazing vegan products, here's my response: store locators! Basically every company on this list has a store locator on its website, so you can type in your zip code and find out what deliciousness is available near you — or if it's available for online order. VeganEssentials.com is also an amazing resource!)
Eat your heart out.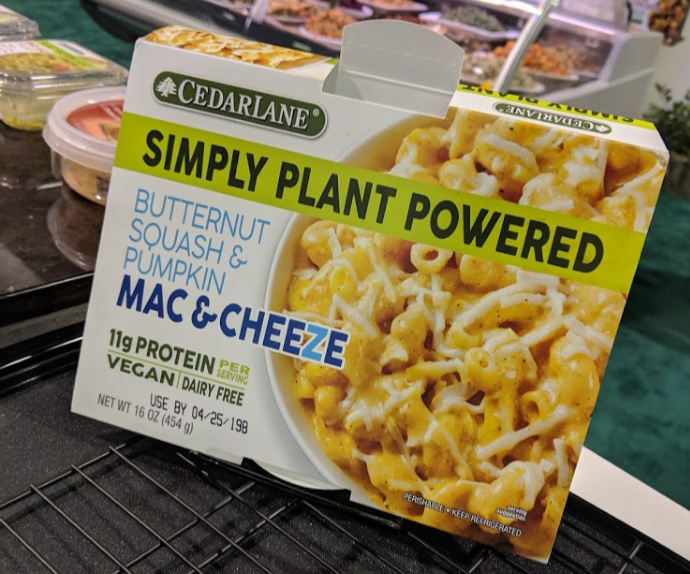 CedarLane Butternut Squash & Pumpkin Mac & Cheeze — This brand is new to me, and while I'd never tried any of their vegan products before, I was blown away by this mac and cheese. Creamy, flavorful, and definitely one of the best I've ever had.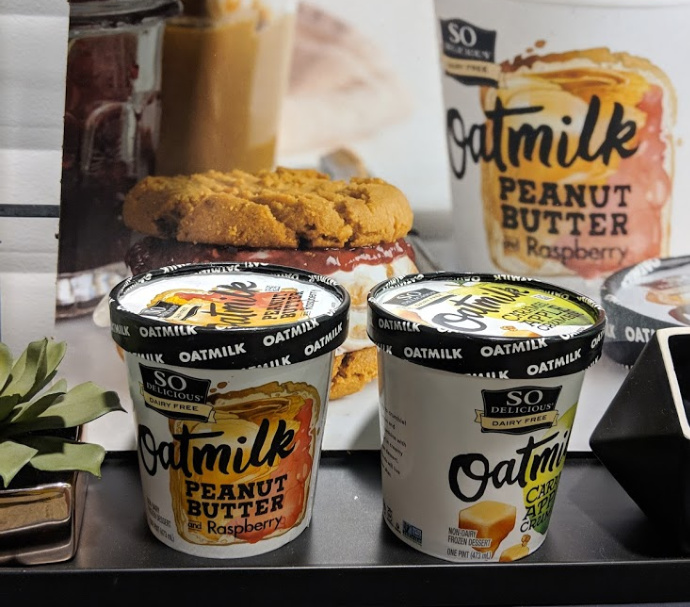 So Delicious Dairy Free Oatmilk Peanut Butter & Raspberry — I thought it couldn't get any better than So Delicious Cashew Milk frozen treats … but I may have been wrong. The company's new line of oatmilk vegan products is totally delicious. Super creamy and so much better for you than dairy ice cream.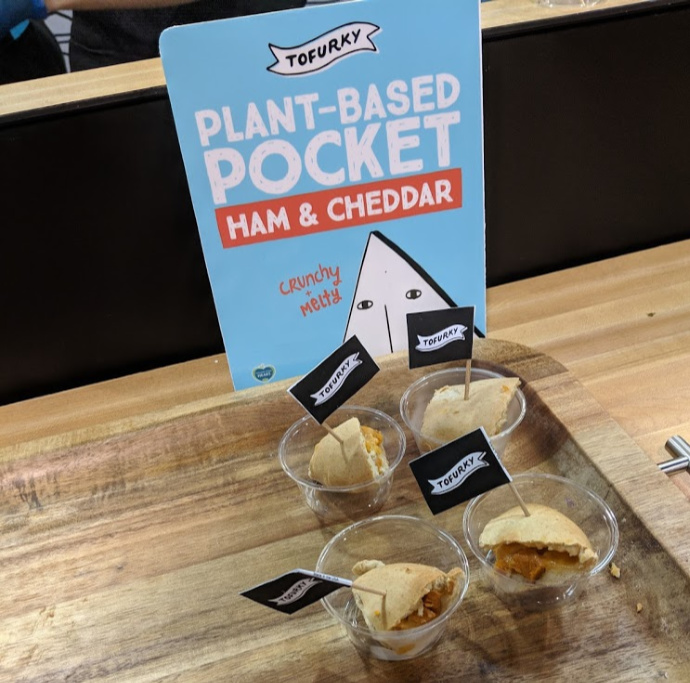 Tofurky Ham & Cheddar Plant-Based Pocket — The company we've counted on for decades is rolling out some new-and-improved products, including cheesecake and pockets. I was a huge fan of the previously released pockets (like Hot Pockets, but better and vegan), but the new variety is even more doughy and delicious.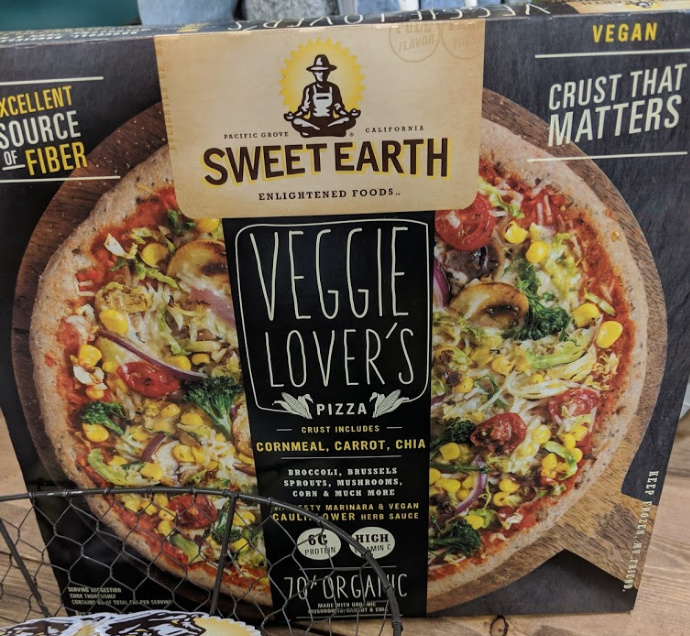 Sweet Earth Veggie Lover's Pizza — Sweet Earth (maker of many frozen vegetarian and vegan products) is rolling out more and more vegan options by the day, including an amazing new pizza! It's topped with veggies and non-dairy cheese and it's delish.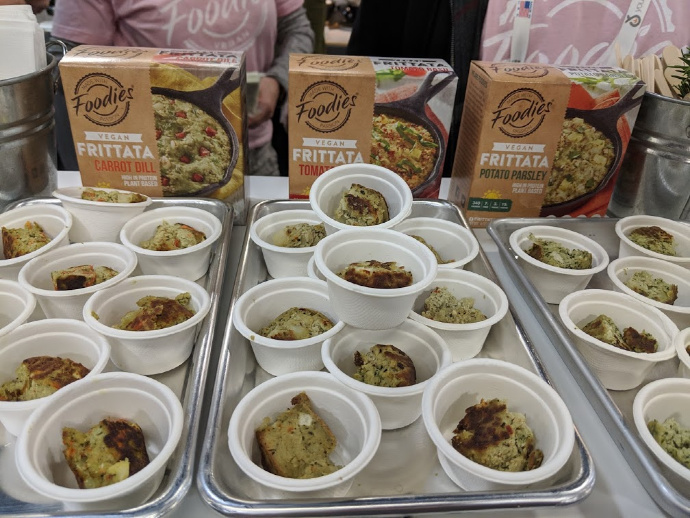 Foodies Vegan Organic Pumpkin Seed Tofu — Foodies is an incredibly impressive female-owned brand that makes some amazing vegan products including the brand new, game-changing pumpkin seed tofu (known as PUMFU), various flavors of vegan frittata (tomato basil, corn chipotle, carrot dill, etc.), plus artichoke burgers. Their products are in some stores including Kroger and Earth Fare, but the tofu has yet to be released. But keep an eye out for it — it's DELICIOUS and the first-ever tofu option that's soy-free!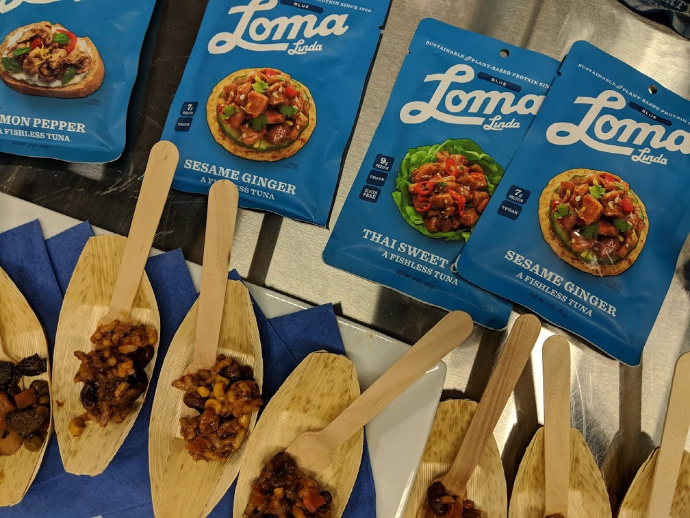 Loma Linda Fishless Tuna — Created by the same company behind the NEAT egg and meat replacers, Loma Linda is a new line of vegan protein products that's about to blow everyone away. Particularly impressive (and unique) is the seafood line, which includes Tuno in a can (Lemon Pepper, Spring Water, Sriracha), and an array of other packaged "seafood" products like Thai Sweet Chili Fishless Tuna. Yum.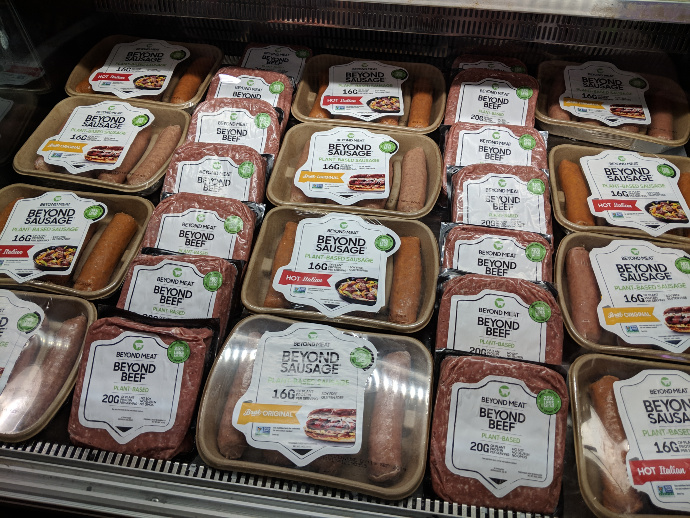 Beyond Meat Beyond Beef — You've probably already heard the buzz about the newest product from the best company EVER. Beyond Beef is packaged ground beef that looks, tastes, and acts like traditional ground beef. But it's all vegan! And it is RIDICULOUS. The Beyond Meat booth was one of the most popular on site; its vegan products are changing the game! And the world!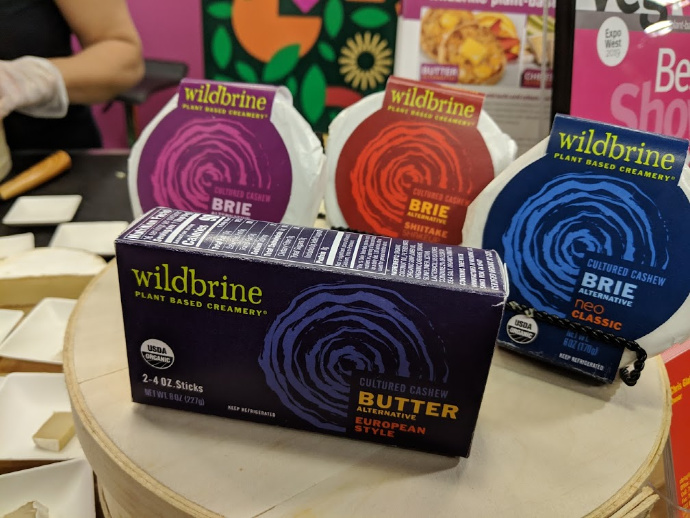 Wildbrine Cultured Cashew Brie — Holy. Shit. I couldn't BELIEVE my taste buds after a bite of this vegan brie. It has a rind, it's cultured, and it tastes exactly how I remember dairy brie. This product is going to change the vegan cheese game, and it might actually be my all-time favorite from the Expo.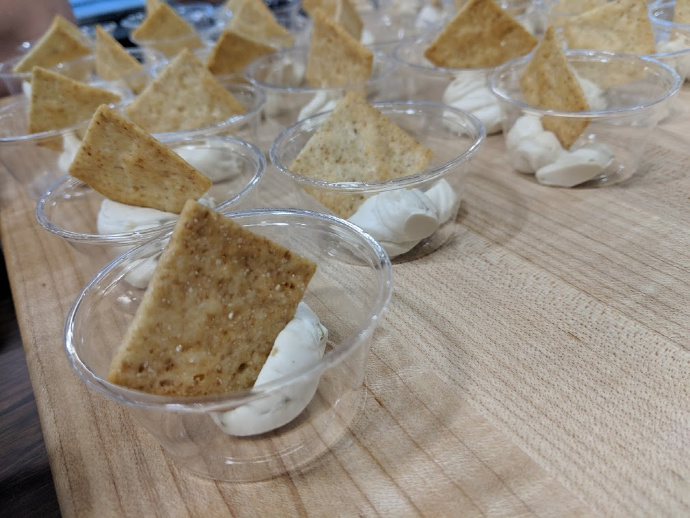 Kite Hill Everything Almond Milk Cream Cheese Style Spread — Pretty much everything Kite Hill makes is awesome — and with nuts as their key ingredient, they're good for you, too! The new everything cream cheese is just that, EVERYTHING. So flavorful and delicious, it's by far my top choice among their different flavors.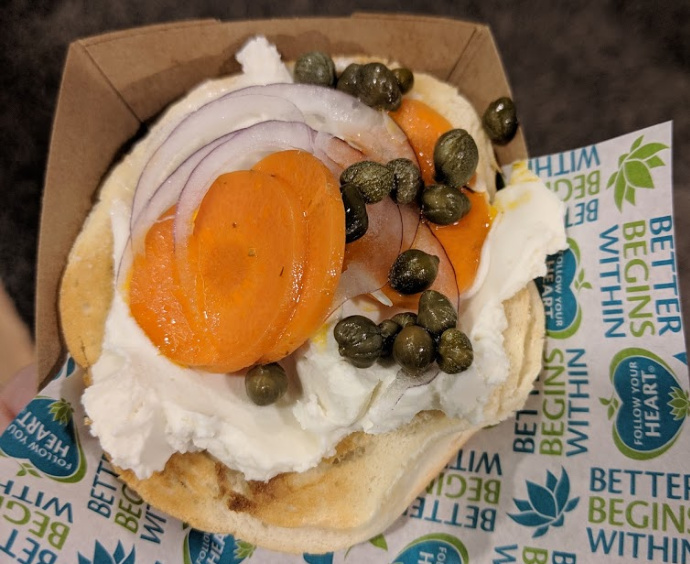 Follow Your Heart Dairy Free Cream Cheese — Follow Your Heart's lineup of vegan products has exploded in recent years — much to my delight. There are lots of new additions, but the cream cheese is a stand out! They were serving it lox-style with carrots, capers, and onions and it was absolutely scrumptious.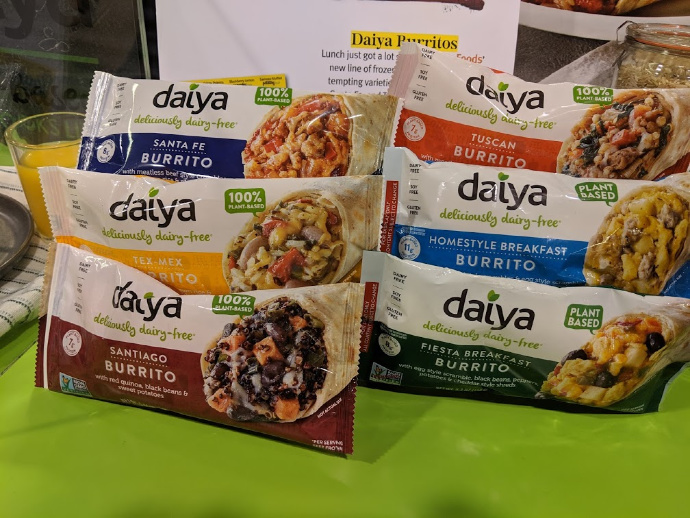 Daiya Homestyle Breakfast Burrito — I'm a Daiya girl all the way and am SO stoked that they've expanded into a.m. offerings! There just aren't enough vegan breakfast convenience foods … but that's changing, and fast. Breakfast burritos are life, and Daiya is rolling out two: Homestyle and Fiesta. Both flavors were spot on. I am loading up on these as soon as I see them in the store!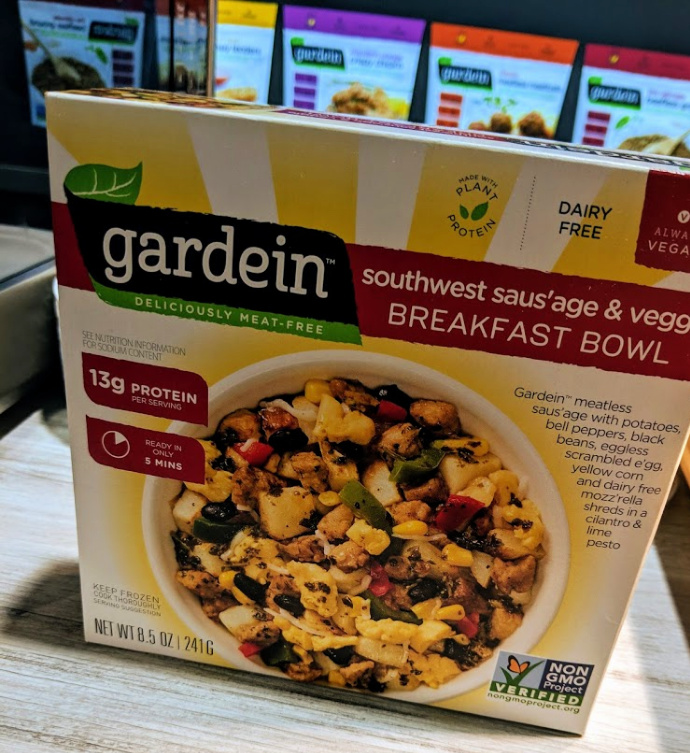 Gardein Southwest Saus'age & Veggie Breakfast Bowl — Another awesome new vegan breakfast option, this bowl was drool-worthy. Again, Gardein has never made a bad product (not that I've tasted!) so I'm not surprised that this bowl was so delish.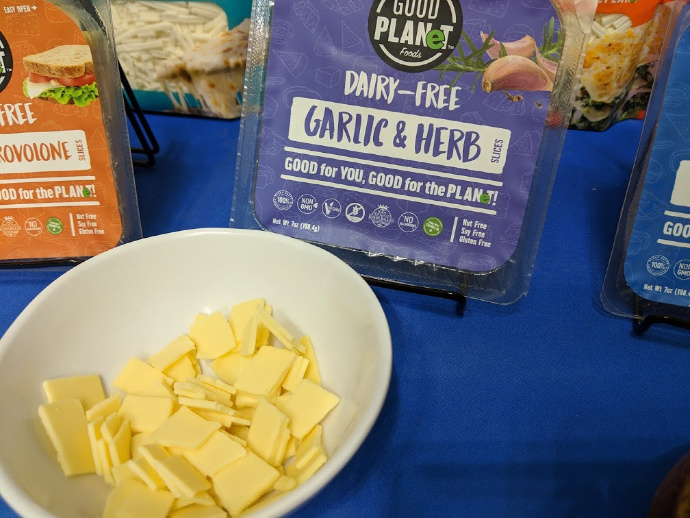 Good Planet Dairy-Free Garlic and Herb Slices — This was my first introduction to Good Planet, a new line of plant-based cheese made from coconut oil. FYI, it's delicious. There are never too many yummy vegan cheeses on the market, so I'm stoked for more. The lineup includes Garlic and Herb, Hot Pepper, American, Cheddar, and Smoked Provolone slices, plus Mozzarella, Smoked Mozzarella, and Parmesan shreds.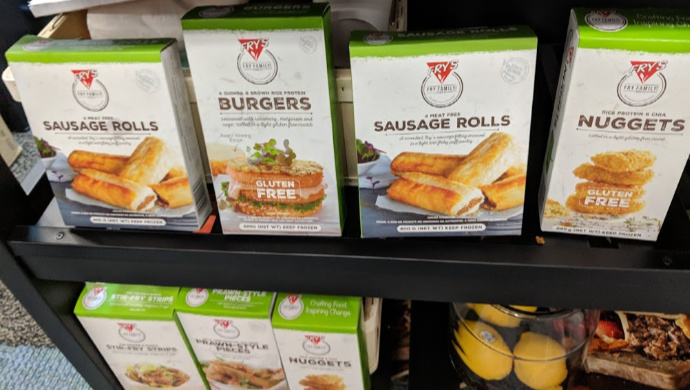 Fry's Meat-Free Sausage Rolls — New to the U.S. (but already popular in the UK and beyond), Fry's Family Foods are going to make a lot of Americans very, very happy. The company has an extensive line of seriously impressive vegan meats and plant-based proteins. It includes Sausage Rolls (a UK tradition), Nuggets, Burgers, Prawn-Style Pieces, and more.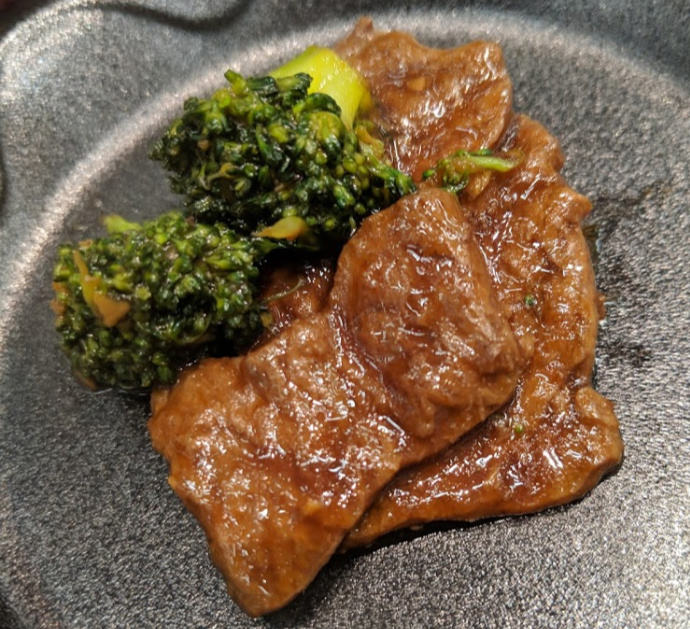 Red Moon Vegan Cuisine Beef Analog — So this one may disappoint y'all, because the product doesn't actually exist yet. Eeeeek! Bummer, I know. BUT the brand was using the Expo as a testing ground, and hopefully they decide to run with it. The company's beef (used in a delicious, Asian-inspired beef and broccoli recipe) tasted exactly like beef. We need this in our lives.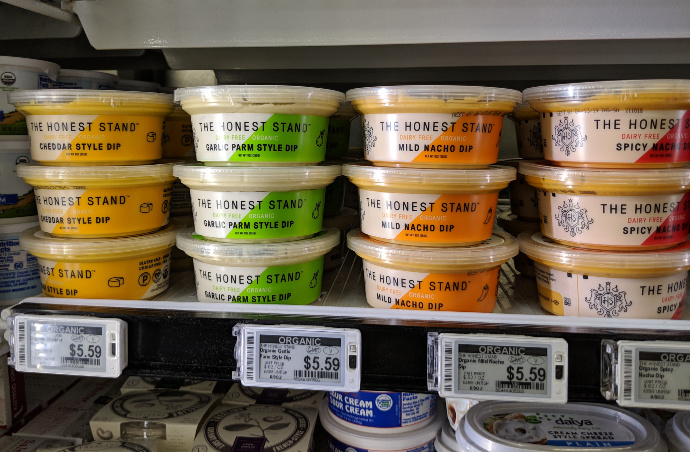 The Honest Stand Spicy Nacho Dip — Ummmmm delightfully creamy queso much?! This stuff is impressively delicious, and they use super-natural ingredients like veggies and nuts to make it. Hard to believe, but true! Tastes indulgent, but it's totally good for you. Win!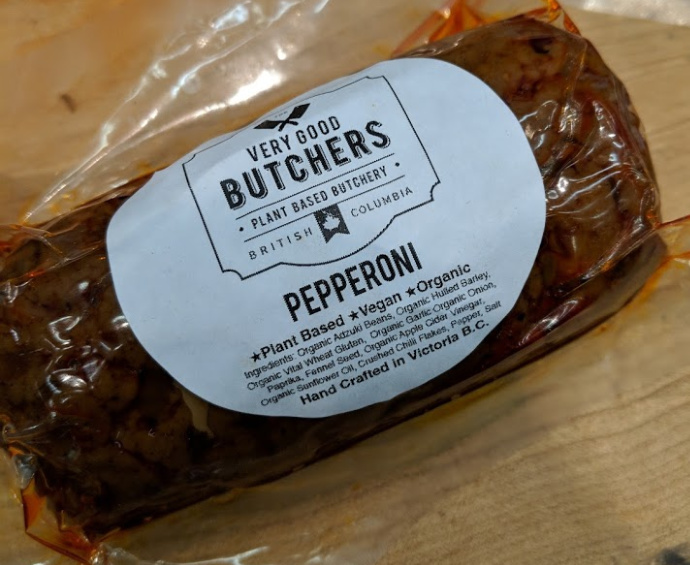 Very Good Butchers Pepperoni — This British Columbia-based company has been making bean-based "meats" for awhile, and it's earned a stellar reputation. Their Pepperoni was my fave, but everything the company served up was good enough to impress any omnivore.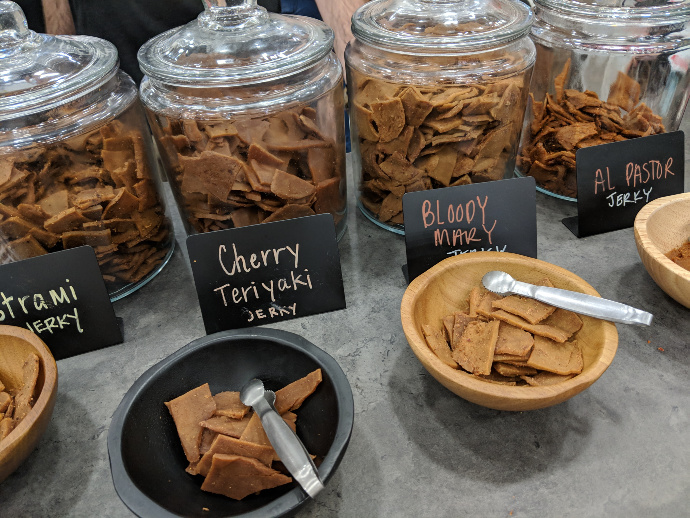 No Evil Foods Bloody Mary Jerky — This Asheville, NC (my former residence) based plant meat company has a special place in my heart! Founders Sadrah and Mike are ridiculously fabulous humans and their products are equally so. The brand has blown up in popularity over the last couple of years. Its newest vegan products includes a line of jerky (Bloody Mary, Cherry Teriyaki, etc.) that's going to make a gaggle of new fans. They also make a lineup of other delicious products: the Comrade Cluck 'No Chicken', The Stallion 'Italian Sausage', El Zapatista 'Chorizo', and Pit Boss 'Pulled 'Pork' BBQ.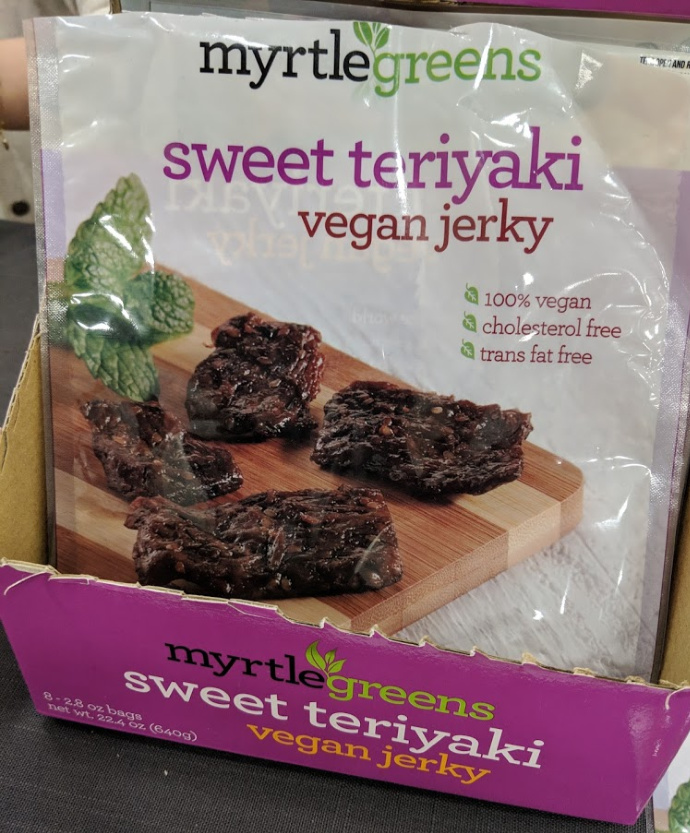 Myrtle Greens Sweet Teriyaki Vegan Jerky — I'm a fan of jerky in general, and it's so awesome that we're getting so many delicious vegan options! This particular variety had a delightful sweetness that I loved. The texture was spot on, too!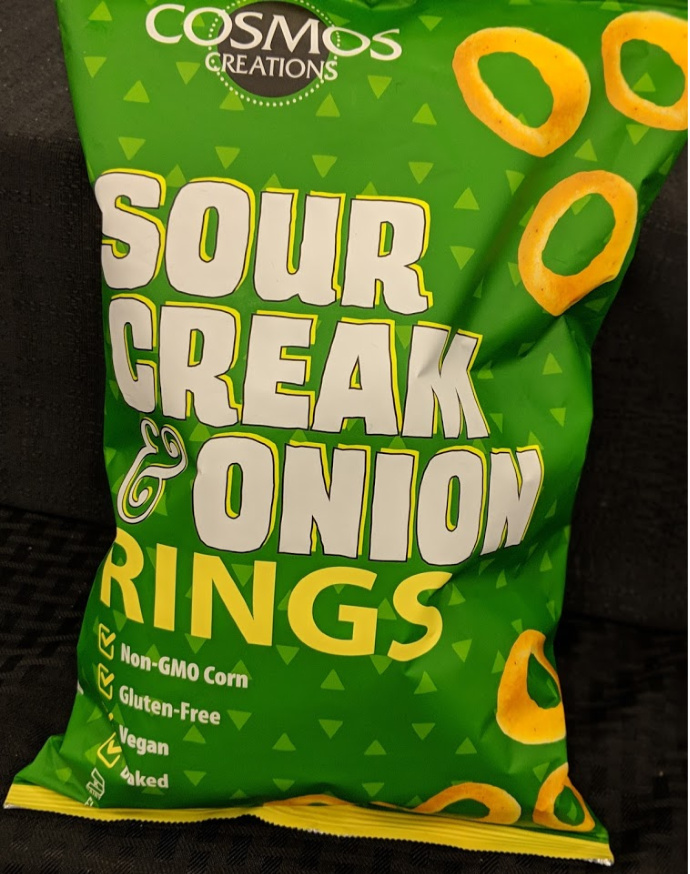 Cosmos Creations Sour Cream & Onion Rings — Sour cream and onion is a flavor mix I miss in a snack food. These puffed corn rings had all of the flavor, none of the dairy, and a really gentle crunchiness that I was into. This was the very first intro for these, so let's hope they hit stores soon!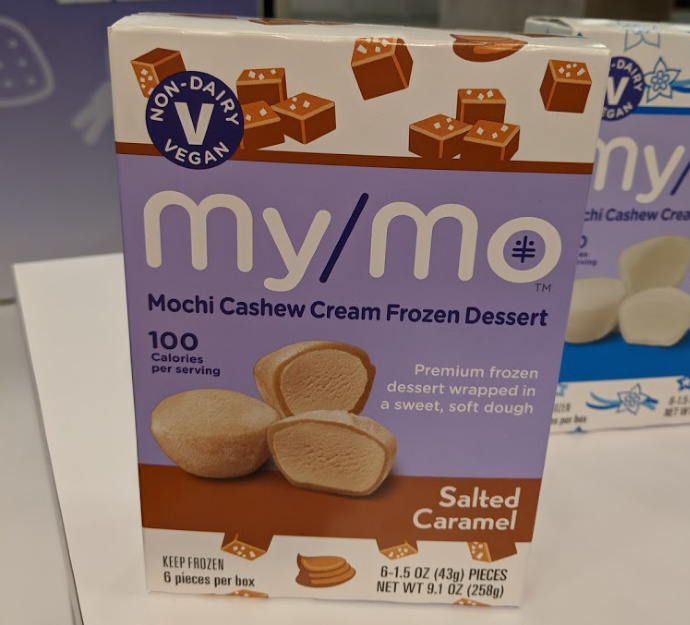 My Mo Mochi Cashew Cream Frozen Dessert Salted Caramel — Mochi has always been my jam, and I've rarely had any stuffed with vegan ice cream. Welp, I'm addicted. There were a bunch of yummy flavors but salted caramel was my FAVE. So yum.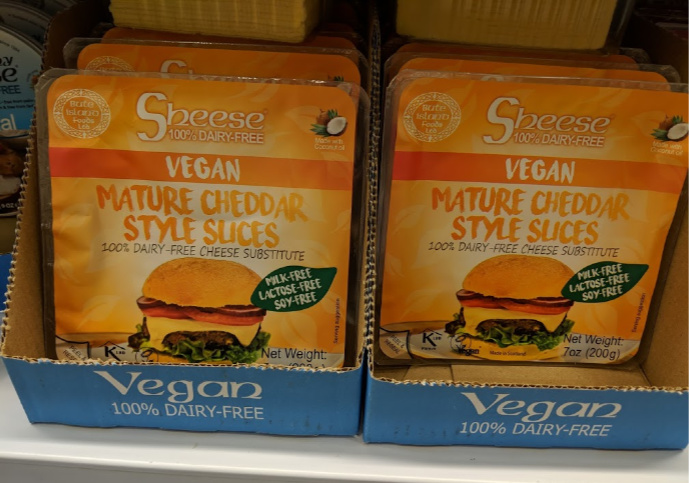 Sheese Vegan Cheddar Style with Garlic & Chives — I've said it before, and I'll say it again — we can never have too many vegan cheeses on the market! And this one was a serious standout. They hail from Scotland and are FINALLY bringing this yumminess to the U.S. The best part is, they already have a huge lineup of products, including blocks, wedges, grated varieties, and in an array of flavors.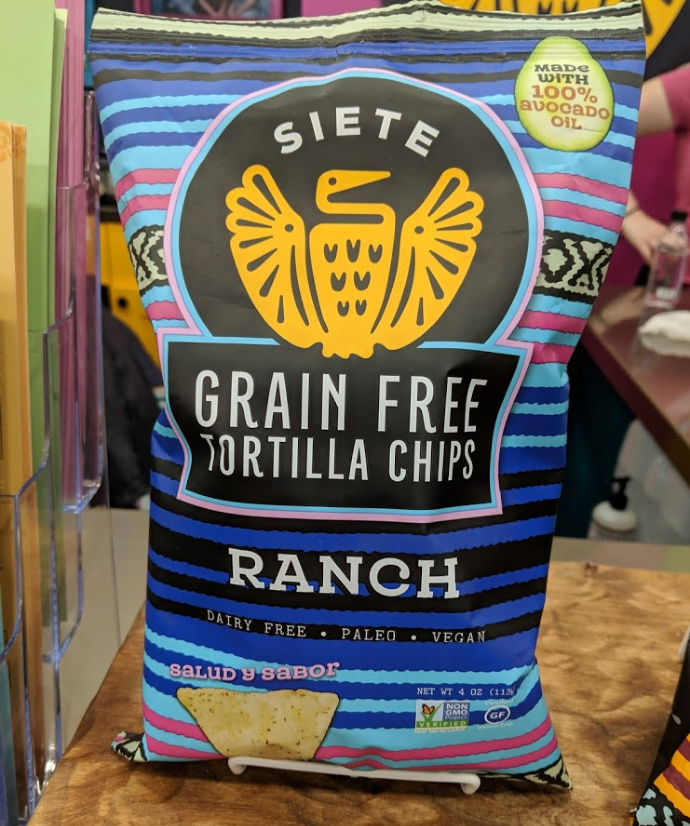 Siete Food Grain Free Tortilla Chips Ranch — I don't know about you, but Cool Ranch Doritos were a staple in my childhood. Now, there's a vegan (and grain free) ranch chip! The company's entire line is vegan, and they also have a cheesy flavor. Super great for snacking.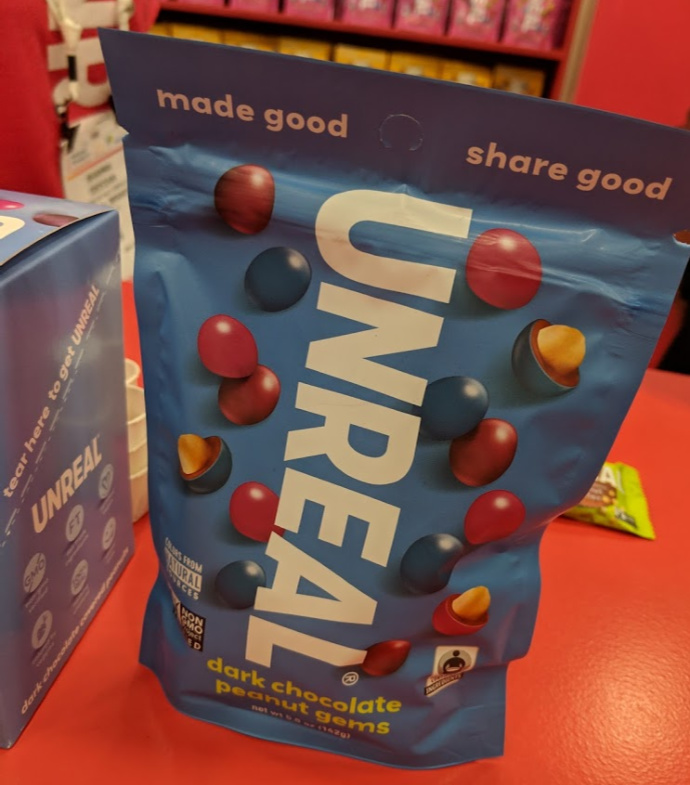 Unreal Dark Chocolate Peanut Gems — There's a new vegan peanut M&M in town! And it is perfection. This is the candy you've been waiting for, I promise you, Allergen-friendly, vegan, and that amazing sweet salty flavor.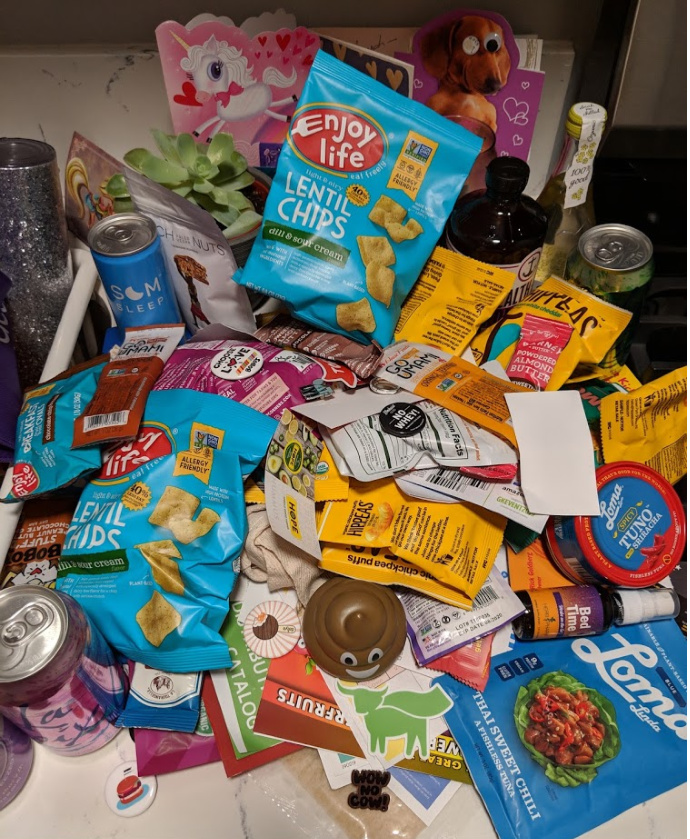 Enjoy Life Lentil Chips Dill & Sour Cream — Again, I reiterate that sour cream is a flavor I miss in my snack foods. These delightful lentil chips are super crunchy and have a lovely flavor that I'm not officially craving.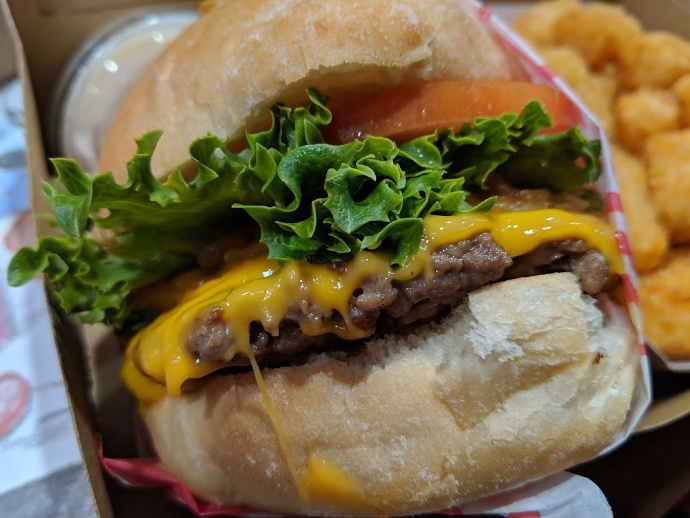 BONUS: Impossible 2.0! I didn't add this item originally as I've been lucky enough to try the new version of the Impossible Burger before the Expo. BUT, it absolutely qualifies as one of the best new vegan products of 2019! The 2.0 burger is identical to a beef burger; no omnivore would know the difference, and it's coming to retail soon! Between Beyond Meat and Impossible Foods, beef is on its way out.
There you go — my top 25 vegan products from Expo West, coming to stores soon (some already in stores!). Be on the lookout, and stock that pantry, baby!
Follow Some Vegan Girl on YouTube, Facebook, Instagram, and Twitter for all things plant-based and pop culture.






Order a FREE vegan kit: http://www.peta.org/living/food/free-vegan-starter-kit/
Take PETA's Cruelty-Free Shopping Guide along with you next time you head to the store! The handy guide will help you find humane products at a glance. Order a FREE copy HERE
Searching for Cruelty-Free Cosmetics, Personal-Care Products, Vegan Products, or more?
Click HERE to search.
Want to do more than go vegan? Help others to do so! Click below for nominal, or no, fees to vegan literature that you can use to convince others that veganism is the only compassionate route to being an animal friend.
PETA: http://www.petacatalog.com/catalog/Literature-39-1.html
Vegan Outreach: https://veganoutreach.org/order-form/
Have questions? Click HERE
food for thought
in every way
have a happy, healthy
and humane,
earth every day!
https://focusingonwildlife.com/news/thank-you-our-mother-earth/
Karen Lyons Kalmenson