Stop Canada From Building Prison Goat Farms
March 15, 2021
Please sign international petition HERE
Source Free From Harm
According to CSC, its multi-million-dollar investment in an industrial goat farm pilot project is for the benefit of prisoners who will "acquire new skills." The real reason: money. Canada's prison farms will be exploiting prisoners in the exploitation of animals for institutional and corporate profit.
"The prisoners will get to play with baby goats," said one CSC representative.
"The prisoners will learn empathy working with animals," said another.
"It's important that it be dairy," said another, "because the animals are all mothers. Many inmates haven't known a mother's love, and the animals are like mothers to them."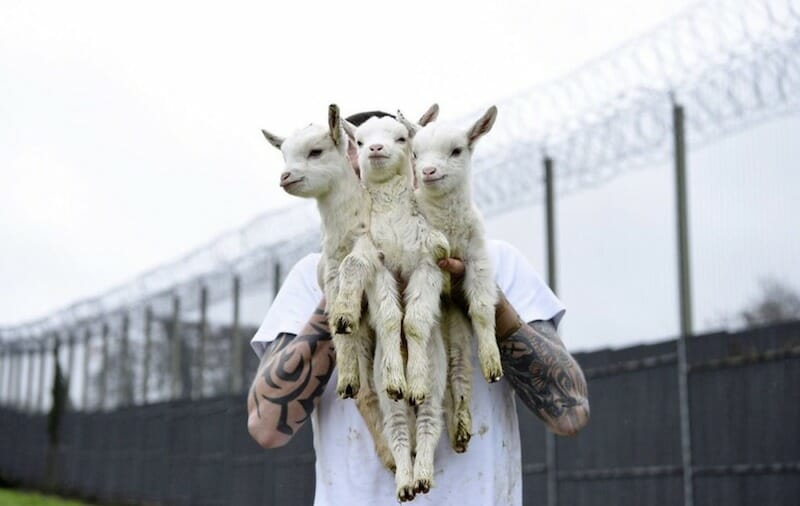 Lawyer Anna Pippus, director of the Plant-Based Policy Centre, offers a simple rebuttal: "Animals are not surrogate mothers for prisoners."
As for the so-called benefits of learning empathy, Camille Labchuck of the Animal Justice law firm demolishes this claim: "Industrial-scale animal farming creates brutal conditions for animals and workers alike. There's no rehabilitative aspect to a factory goat farm. All it teaches incarcerated persons is that animals should be exploited and commodified. This is hardly consistent with inspiring more care and compassion for others."
To sum up CSC's goat farm as "playing with baby goats" is misleading to the point of obscenity. Baby goats there will be, hundreds of them. CSC plans on acquiring the first 800 female kids in 2021, to begin building the herd to at least 2200, and potentially as many as 3000 or more. An industrial dairy facility (and accompanying manure lagoon) will be built on prison grounds to produce 9000 litres of goat milk per day. The expected buyer is a transnational Chinese infant formula company that has built a massive processing facility in proximity to the prison farms in Kingston, Ontario.
Please read rest HERE
Download Your FREE Vegan PDF HERE
Order a FREE vegan kit HERE
Dairy-Free Info HERE
Take the Dairy-Free Challenge HERE

Click HERE for more Dairy-Free
Fish alternatives can be found HERE
Learn about eggs HERE
Find bacon alternatives HERE and HERE
Take PETA's Cruelty-Free Shopping Guide along with you next time you head to the store! The handy guide will help you find humane products at a glance. Order a FREE copy HERE
Searching for Cruelty-Free Cosmetics, Personal-Care Products, Vegan Products, or more?
Click HERE to search.
Free PDF of Vegan & Cruelty-Free Products/Companies HERE
Click HERE to find out How to Wear Vegan!
Want to do more than go vegan? Help others to do so! Click below for nominal, or no, fees to vegan literature that you can use to convince others that veganism is the only compassionate route to being an animal friend:
PETA HERE
Vegan Outreach HERE
Get your FREE Activist Kit from PETA, including stickers, leaflets, and guide HERE
Have questions? Click HERE




More cruel and stupid behind the mask of "compassion"